Regular Cleaners in West London
24/7 service
Eco-friendly
Cashback up to £150
Pay as You Go
Meet our Regular cleaning service professionals
Mariya

Cleaning for me is not just a task. I really love it and it makes me happy. I love when customers are happy with the results, and I am constantly finding new and innovative ways to clean.

Ruslan

People call me the big clean machine. When cleaning, I try to be quick, functional and clean to a high standard.

Sumae

The flexibility of working with eMop has still allowed me to still keep to my lifestyle. I pickup jobs when needed and work arounds my kids schedule. Working with eMop has been great and I can make lots of money.

Veronika

Hello from Veronika, I am really glad to have found eMop, working with my colleagues have really improved my cleaning skills and I have learnt a lot from the excellent training.

Gerilee

My name's Gerilee, I've been working in the cleaning industry for about 3 years. Cleaning is my passion and I thoroughly enjoy it. I love making people's homes/offices into a spotless sanctuary!

Alberto

As an aspiring actor, eMop allows me to work flexibly and around my film schedules. The pay is really great and the training is excellent.

Silvie

Hi, my name is Silvie and I have more than 5 years experience as a cleaner. Let me help you to make your home spotless. 😊

Martha

My name is Marta, I'm a professional cleaner with over 6 years of experience. I like cleaning, because this job allows me to be flexible and creative. I like things to be clean and in order. I would like to think that my clients feel comfortable and have peace of mind when my job is done.

Paul

I am a bit of a clean freak so this job is perfect for me. I get to clean people homes and get paid for it too best job ever.

Lulian

Working with eMop has been fantastic. The team is great and everyone is really helpful. I am really learnt a lot from my colleagues and I hope to continue to improve my cleaning skills.

Zaharina

I have been cleaning since childhood, so its almost second nature to me. I don't have to think I just do, the results speak for themselves and I love it when I get customer feedback.

Anita

Hi, I'm Anita. I've been working as a cleaner for 8 years. About me: I'm joyful, energized, friendly, helpful, and nonetheless a maximalist. My home is always pristine clean, and it makes me happy if I can help others by tidying up their bunk.
What is included in regular cleaning in West London?
Tidying up the rooms

Wiping surfaces in kitchens and bathrooms

Cleaning floors

Taking out the rubbish
Regular cleaning service in West London
Our standard cleaning service includes everything you need to get your home in order as quickly as possible. You can book additional services when you make your booking.
How eMop cleaning service works
Submit your booking online
Enter postcode
Choose a type of cleaning
Select a cleaning schedule
Choose rooms to get an estimated price
Select additional cleaning services if you need them
Indicate the level of dirt in your property
Pay as You Go
The estimated amount of your booking will be held in your bank account
You will only be charged after the cleaning session is completed and according to the actual time a cleaner worked
Manage your booking online
When you submit your cleaning request, your booking becomes available to all cleaners in the system
When you make an appointment with a cleaner, we email you or send a text message through the app
You can use MyAccount on our website or the eMop App to keep track of your booking
eMop Regular Cleaning in West London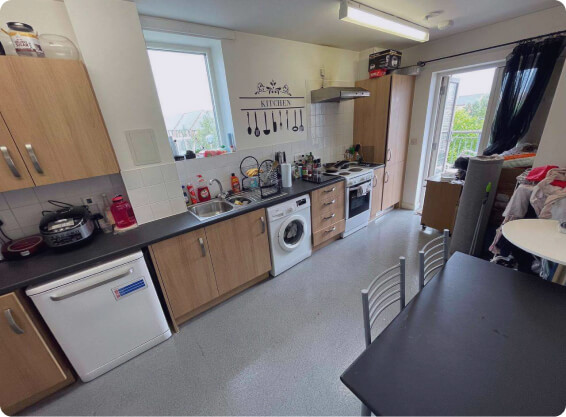 At eMop we offer high-quality regular cleaning in West London that will make your house spotless. Our goal is to lift the burden of domestic chores off of your shoulders and provide excellent services at affordable prices. The less time you spend cleaning, the more time you have for enjoying things that matter - family, friends, work, and hobbies. Our professional cleaners will help you with that.
As part of our regular cleaning packages, priority areas for our cleaners include
Living room and bedroom - professional dusting of surfaces (including furniture, the bed frame, bookcases, etc.), wiping the mirrors, mopping, hoovering the carpet, and wiping the picture frames. If needed, you can request changing the linens and bed covers and various other additional services.

Kitchen - wiping and polishing all surfaces and worktops, mopping and vacuuming the floors, cleaning equipment and appliances, washing the dishes, cleaning doors and handles. You can also request cleaning inside the fridge, the oven and the microwave, arranging things inside kitchen cabinets, etc.

Bathroom - polishing and sanitising the sink, the tiles, the toilet, the toilet seat, the bathtubs and/or the shower cubicle. Also, our cleaners hoover/sweep and mop the floors, polish the accessible surfaces and clean mirrors and glasses.

Hallway and stairs - cleaning and polishing the furniture, hoovering carpets and rugs, washing the floors, removing fingerprints and marks from surfaces, wiping the skirting boards and the inside of the front door.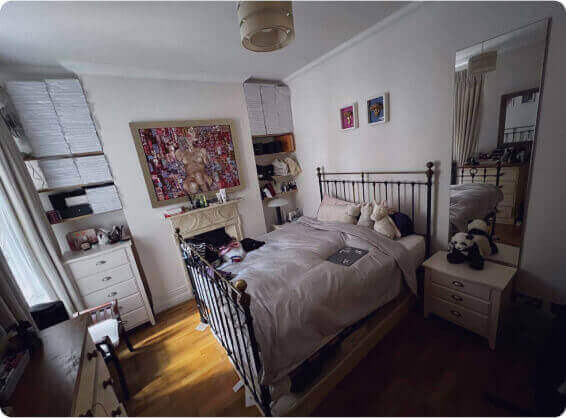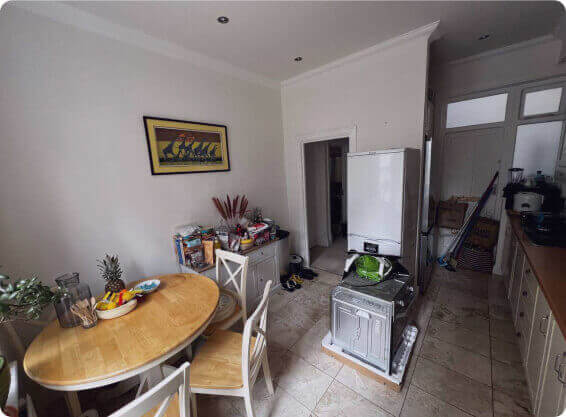 Every house is unique, which is why our cleaners are encouraged to take a personalised approach. Besides, different clients require different things and having your needs fully satisfied is our top priority. The ability to modify the standard set of services is a major benefit of working with eMop regular cleaning in West London. When your regular cleaning plan is tailored to your needs, you are paying precisely for the services you need. However, there are certain services our cleaners don't provide. For example, our cleaners don't lift or move heavy objects, do ironing, or clean the back garden. If you want to discuss add-ons in detail, we are always happy to answer your questions.
Why book regular cleaning from eMop West London:
We are fully insured. We guarantee that your property and possessions will stay safe.

You can book our cleaning services any time or day of the week - regardless of weekends or bank holidays.

We cover a full range of cleaning tasks, which you can also customise according to your needs.

All the pricing plans are transparent and there are no hidden charges.

We have qualified and trustworthy cleaners.

Our customer service is always ready to help you and resolve any issues.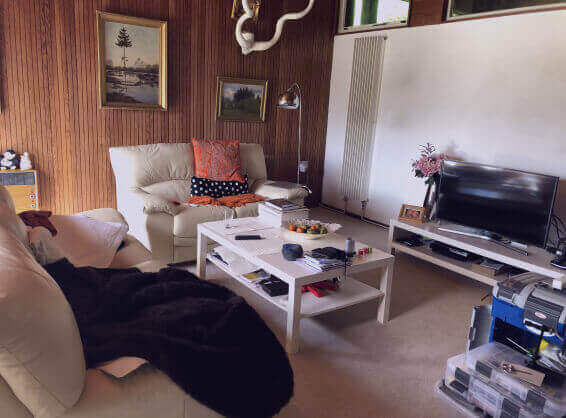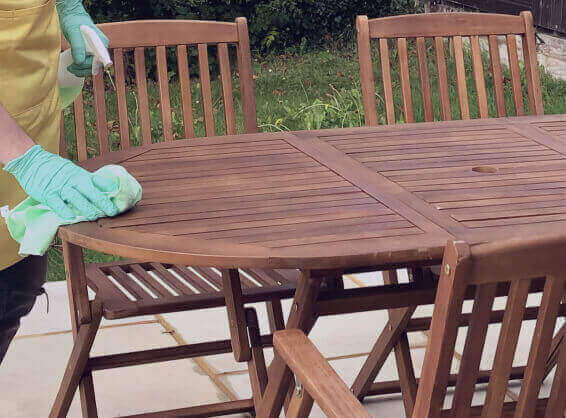 There are multiple tasks that people need to take care of every single day. As a result, cleaning becomes a lesser priority and leads to a dirty and/or disorganised house. To avoid that, hire a professional cleaner, as this will have a positive effect on your mental and physical well-being. eMop provides excellent cleaning services, which will make you wonder why you didn't do it sooner. It is quick, convenient, and affordable. You will be surprised by how much a thoroughly cleaned house can improve the quality of your life.
Frequently asked questions
Do cleaners provide equipment / products?
If you do not have your own equipment/ products, please request a cleaner to the equipmentor products. You will be charged additionally for an order with the equipment/products.
Why is the estimated price for the cleaning more than what I chose?
The minimum duration of the job is 3 hours. If the cleaner finishes early, please give them another task.
I need a quotation for end of tenancy / one off / carpet (combined) order
Please request a quote on our website simply entering your postcode. Please add all items you need to be cleaned and you will receive the quotation for the service.
Is there a guarantee of a refund if the job isn't done up to standard?
According to eMop policy we do not provide any refunds. However, in case of any complaint, we will investigate the case, review the evidence and get back to you with a proposed solution in accordance with eMop policy. The full description of the complaint followed by picture evidence will be requested.
When will I get confirmation for my booking?
As soon as you make a booking it becomes available to all cleaners in the eMop platform. The time of the booking confirmation depends on the availability of the cleaners in the area and the type of the cleaning you request. eMop team will contact you if there is no availability for the chosen time and offer you the closest available time of the cleaning.
Other services we provide