Professional Surbiton Cleaners
What our clients say
5

The cleaning of the apartment was excellent. thanks to Anna for the work!

Barnaby Rodgers

3rd of August, 2022

5

The house is immaculately clean! Thanks!

Robert Short

31st of July, 2022

5

Very professional friendly cleaner! My house is clean again, thank you!

Alvin Parker

27th of July, 2022

5

Nolene is great. Have used this service a couple times and it's really good when you need your place cleaned every now and then. Would recommend.

Liam McKay

8th of July, 2022

5

I booked an end of tenancy clean and it was done superbly i will definitely book soon at my new place once the renovations are complete

Darren Austin

29th of June, 2022
Pricing for cleaning in Surbiton
What is included in eMop standard cleaning?
Dusting all accessible surfaces
Wiping mirrors and glass fixtures
Wiping appliances
Folding clothes and arranging things
Wiping doors, door handles, and switches
Cleaning lighting appliances, and chandeliers
Vacuum cleaning of the carpets and washing the floor and skirting boards
Taking out rubbish
Washing and sanitizing the toilet, the sink and the bidet
Cleaning and washing the shower and the tub
Wiping down mirrors, glass fixtures and lighting appliance
Dusting all accessible surfaces
Wiping down walls, doors, door handles and switches
Vacuuming and washing the floor and skirting boards
Taking out rubbish
Cleaning all accessible surfaces from dust and grease (sink, sink faucet, table surface, stove and kitchen equipment)
Cleaning the front, upper and bottom kitchen facades
Vacuuming and washing the floor and skirting boards
Wiping doors, door handles, and switches
Doing washing-up
Taking out rubbish
Dusting of desks and computer equipment
Vacuum cleaning carpets mopping the floor, and cleaning skirting boards
Wiping mirrors and glass fixtures
Toilet and shower washing and sanitizing
Kitchen cleaning: washing all used crockery and equipment as well as cleaning all the external surfaces
Taking out rubbish and replacing with new bin liners
Dusting all accessible surfaces
Cleaning mirrors and glass surfaces
Cleaning the front door (inside)
Vacuuming and mopping the floor and the skirting boards
Arranging things
Taking out rubbish
Why choose eMop?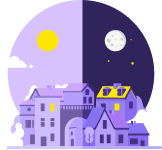 24/7 Availability
Pick a date and time that suits you. You can even book for same day cleaning, 4 hours in advance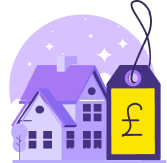 Pay as You Go
We charge clients only for the actual time an eMopper spends at your property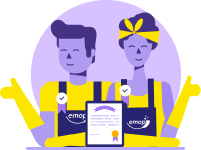 Bespoke Service
You can choose which rooms you wish us to clean and book only the services you need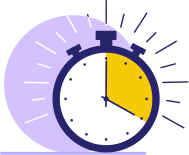 Last minute cleaning
Need urgent cleaning? You can make a booking 4 hours in advance
eMop Cleans Up in Surbiton

100.5
One-off clean completed

201
Homes cleaned

80.4
Regular clients

10.05
End of tenancy clean completed

205
Average clean duration, min

8.04
eMop Cleaners

70.35
Same day clean completed

80.4
Next day clean completed
Book your cleaning in Surbiton
Choose time and date, pay and wait for your cleaner.
Info about Surbiton
Located within London�s least-populated boroughs, the Royal Borough of Kingston upon Thames, Surbiton is a pleasant suburban neighbourhood. The area boasts lavish greenery (for example, Alexandra Recreation Ground and Fishponds Park) and is in close proximity of the river Thames, which collectively create a countryside feel. Traditionally, it belonged to the county of Surrey but has been reassigned since.
One of the benefits of the location is an easy access to central London through Surbiton and Berrylands stations, which is convenient for those working in the city. Surbiton is fairly close to Heathrow and Gatwick, which is also a plus. An interesting feature of the area is the 1920s-30s art deco buildings as well as grand three- or even four-storey houses, with post-war and fairly new housing completing the mix.
This area covers the following postcodes: KT5, KT6
eMop - professional cleaning company in Surbiton
The thought of living in a house in constant need of cleaning can easily stress anybody out. You can spend the whole weekend putting off domestic tasks, or you can hire a professional cleaning service and simply relax. Our cleaning service helps you do just that.
Why choose eMop?
Keeping your house or the office space clean can be easy and efficient with eMop. Our budget-conscious clients especially appreciate our affordable pricing, starting from just £18/hr. This is not something you commonly come across in Surbiton or London in general. Plus, you pay as you go with no extra charges for the whole hour.
We are available 24/7 and offer a special feature called 'same day professional cleaning' for those who need the task done urgently. Depending on what you require, we can modify the standard cleaning package – simply choose from an extensive list of add-ons.
For easy, on-the-go booking, download the eMop mobile app.
eMop delivers different cleaning services in Surbiton to spare your day:
Domestic cleaning in Surbiton
End of tenancy cleaning in Surbiton
House cleaning in Surbiton
Office cleaning in Surbiton
Move out cleaning in Surbiton
About the cleaning process
All of the arrangements are made online
A cleaner in Surbiton arrives at your house or office in Surbitonat the specified time
You don't need to explain anything as the necessary information and guidelines are provided in the request
We use eco-friendly cleaning supplies
Time is not abstract; it's a real asset that you can choose to spend wisely. And when you get into the routine of using a cleaning service, keeping things tidy in-between visits will be a piece of cake.
Frequently asked questions
Do cleaners provide equipment / products?
If you do not have your own equipment/ products, please request a cleaner to the equipment or products. You will be charged additionally for an order with the equipment/ products.
Why is the estimated price for the cleaning more than what I chose?
The minimum duration of the job is 3 hours. If the cleaner finishes early, please give them another task.
I need a quotation for end of tenancy / one off / carpet (combined) order.
Please request a quote in our website simply entering your postcode. Please add all items you need to be cleaned and you will receive the quotation for the service.
Is there a guarantee of a refund if the job isn't done up to standard?
According to eMop policy we do not provide any refunds. However, in case of any complaint, we will investigate the case, review the evidence and get back to you with a proposed solution in accordance with eMop policy. The full description of the complaint followed by picture evidence will be requested.
When will I get a confirmation for my booking?
As soon as you make a booking it becomes available to all cleaners in eMop platform. The time of the booking confirmation depends on the availability of the cleaners in the area and the type of the cleaning you request. eMop team will contract you if there is no availability for the chosen time and offer you the closest available time of the cleaning.
Other areas we cover in London