End of Tenancy Cleaning in North London
24/7 service
Eco-friendly
Cashback up to £150
Pay as You Go
Meet our End of Tenancy cleaning service professionals
Mariya

Cleaning for me is not just a task. I really love it and it makes me happy. I love when customers are happy with the results, and I am constantly finding new and innovative ways to clean.

Ruslan

People call me the big clean machine. When cleaning, I try to be quick, functional and clean to a high standard.

Sumae

The flexibility of working with eMop has still allowed me to still keep to my lifestyle. I pickup jobs when needed and work arounds my kids schedule. Working with eMop has been great and I can make lots of money.

Veronika

Hello from Veronika, I am really glad to have found eMop, working with my colleagues have really improved my cleaning skills and I have learnt a lot from the excellent training.

Gerilee

My name's Gerilee, I've been working in the cleaning industry for about 3 years. Cleaning is my passion and I thoroughly enjoy it. I love making people's homes/offices into a spotless sanctuary!

Alberto

As an aspiring actor, eMop allows me to work flexibly and around my film schedules. The pay is really great and the training is excellent.

Silvie

Hi, my name is Silvie and I have more than 5 years experience as a cleaner. Let me help you to make your home spotless. 😊

Martha

My name is Marta, I'm a professional cleaner with over 6 years of experience. I like cleaning, because this job allows me to be flexible and creative. I like things to be clean and in order. I would like to think that my clients feel comfortable and have peace of mind when my job is done.

Paul

I am a bit of a clean freak so this job is perfect for me. I get to clean people homes and get paid for it too best job ever.

Lulian

Working with eMop has been fantastic. The team is great and everyone is really helpful. I am really learnt a lot from my colleagues and I hope to continue to improve my cleaning skills.

Zaharina

I have been cleaning since childhood, so its almost second nature to me. I don't have to think I just do, the results speak for themselves and I love it when I get customer feedback.

Anita

Hi, I'm Anita. I've been working as a cleaner for 8 years. About me: I'm joyful, energized, friendly, helpful, and nonetheless a maximalist. My home is always pristine clean, and it makes me happy if I can help others by tidying up their bunk.
What is included in End of Tenancy cleaning in North London?
Deep cleaning and dusting of all surfaces such as skirting boards, walls, ceiling, and limescale on tiles and taps.

Cleaning and polishing windows, mirrors, and any glass surfaces.

Deep cleaning of appliances: oven and hob, microwave, fridge, freezer.

Hoovering and mopping the floor.

Cleaning all bathroom fixtures.

Taking out the rubbish from the house premises.

Removing cobwebs and dust from the ceiling.

Cleaning plugs, sockets, light switches & fittings, and lamp shades.

Washing windows (inside and if selected), including sills and ledges.

Cleaning plugs, sockets, light switches & fittings, and lamp shades.
End of Tenancy cleaning service in North London
Our standard cleaning service includes everything you need to get your home in order as quickly as possible. You can book additional services when you make your booking.
How eMop cleaning service works
Submit your booking online
Enter postcode
Choose a type of cleaning
Select a cleaning schedule
Choose rooms to get an estimated price
Select additional cleaning services if you need them
Indicate the level of dirt in your property
Pay as You Go
The estimated amount of your booking will be held in your bank account
You will only be charged after the cleaning session is completed and according to the actual time a cleaner worked
Manage your booking online
When you submit your cleaning request, your booking becomes available to all cleaners in the system
When you make an appointment with a cleaner, we email you or send a text message through the app
You can use MyAccount on our website or the eMop App to keep track of your booking
What clients say about our cleaning service
5

My job was a quick refresh of bathroom and kitchen (ID #273808) and Abisola who completed the job was absolutely fantastic. Professional and on-time, she went above and beyond and the results are brilliant. A definite recommend.

Chris Haigh

28th of November, 2023

5

Dimitrios Xenitopoulos

9th of October, 2023

5

Excellent service! Great value for money!

Fani Loula

19th of September, 2023

5

I highly appreciate the eMop service for its transparency and user-friendly booking process. I wholeheartedly recommend eMop to others.

Soma Chatterjee

22nd of November, 2023

5

The house was left spotlessly tidy!

Lily West

30th of June, 2023

5

Job #268294
eMop cleaners Memounata and Grigor came at 9:30am and finished cleaning the one bedroom flat I had been renting before 2pm, including the carpet.
Overall cordial and reliable service.

Luca

19th of November, 2023

5

#276941 cleaned by Asya Arnaudova highly recommend her so pleasant and polite did an amazing job with the cleaning went above and beyond

Suziee Austin

18th of November, 2023

5

Chioma did a great job cleaning the house. The platform is easy and straight forward to use. Would recommend cleaning job #270783

Isabel Tan

17th of November, 2023

5

I would very much recommend eMop. Their rates are good, their support team has been "on it" and the cleaner I've had the last 2 bookings (Elena REF 260632 ) has been fantastic!

Tamsin Bosch

13th of November, 2023

5

Really excellent service. Have had two cleaners from emop so far, both did outstanding jobs- far better quality than other companies I've had and brilliant value.

chyltonp

12th of November, 2023
Why choose eMop for lease cleaning?
Assurance of complete cleaning

Because we believe we provide the best end of tenancy cleaning service in North London, we guarantee your complete satisfaction. Feel free to share your thoughts and experiences on our website about each cleaning job.

Professional service

Our North London cleaners are knowledgeable, courteous, and on time. To ensure they deliver a fantastic job, they will accompany you around the property while taking note of any particular demands you might have and provide you with the professional cleaning required.

Our booking is extremely flexible

Pick the cleaners from eMop whose availability best suits your schedule when booking a lease cleaning service. We accept last-minute and evening reservations, and we are open on weekends and bank holidays.

Quick free quote

Request a free online quote right away. For your financial planning purposes, we will provide you with an exact fee for your move-out cleaning. There are no unforeseen costs or fees.

All questions are answered

Any inquiries you might have will be answered by our staff. Call straight away and get specific details about the service you require. Don't hesitate!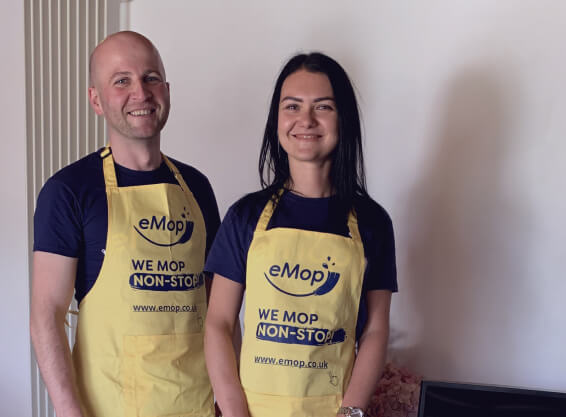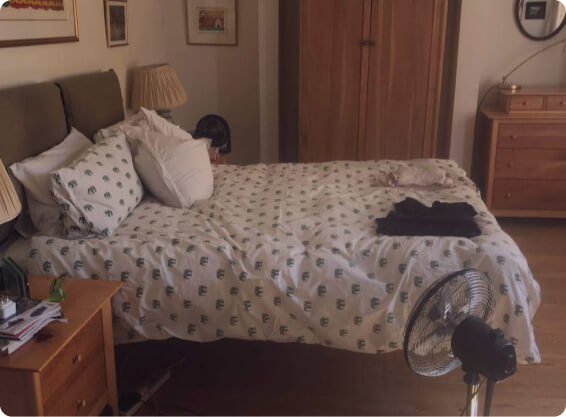 Do I need a professional move out service?
Cleaning at the end of a lease is often necessary when renters are leaving a rental property since the landlord or real estate agent expects the home to be left in a tidy and clean state. End of tenancy cleaning may be required in the following situations:
Tenants

When vacating a rental home, tenants are often responsible for leaving it clean and orderly. Cleaning the kitchen, bathrooms, bedrooms, living room, and any additional spaces that were occupied during the tenancy are included in this.

Landlords

Landlords may insist on end-of-tenancy cleaning to make sure the place is tidy and sanitary for the new tenant, even on short notice. Additionally, it's a way to ensure that any damage the previous tenant left behind is found and fixed before the new tenant moves in.

Estate agencies

To ensure the property is clean and attractive for potential tenants, estate agents may insist on end of tenancy cleaning. This may aid in attracting potential tenants and ensuring that the home is swiftly rented out.
We offer the best prices for end of tenancy cleaning
eMop tenancy cleaning services are affordable for a number of reasons. First off, eMop has a special pricing structure that enables customers to pay only for the particular services they need rather than a predetermin- ed package. Therfore, customers can pick only the services they require, lowering total costs.
Plus, eMop runs an online platform as a tenancy cleaning provider. We offer our services at affordable prices. Also, eMop uses technology to automate its processes, which lowers labor costs, boosts efficiency, and, as a result, lowers tenancy cleaning costs for clients.
Value-wise, eMop offers thorough end of tenancy cleaning services at a reasonable cost. We hire a cleaning team that is skilled and uses cutting-edge cleaning equipment to guarantee that the property is left pristine.
The end of tenancy cleaning North London service by eMop ensures that the property is cleaned to a high degree, which lowers the risk of losing tenancy deposits. The service is especially helpful for people leaving rental homes. Overall, eMop provides customers looking for high-quality tenancy cleaning services with an affordable option.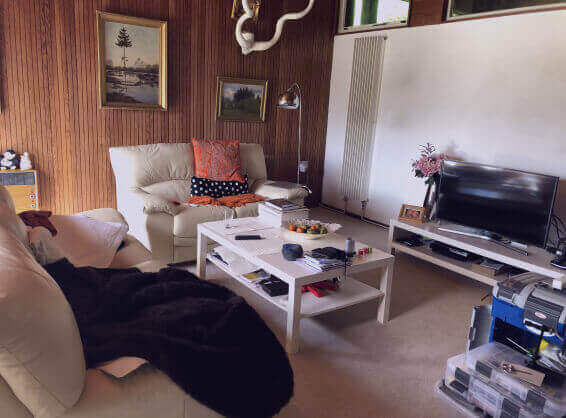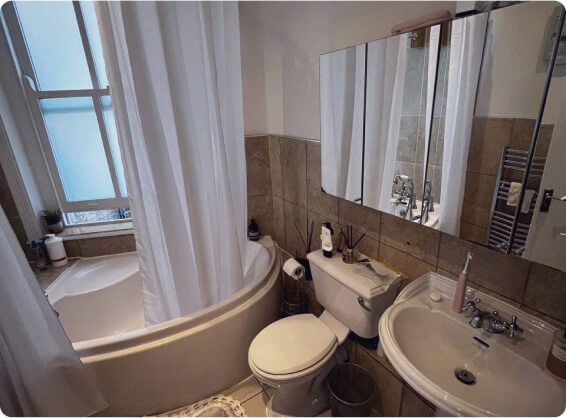 Is your cleaning service 100% safe?
eMop is a professional cleaning company. You can trust us to provide a secure cleaning job for you. You do not need to be afraid of anything. From booking online, to making payments with your cards on our website, to receiving our cleaning workers in your apartments, you can rest assured that your safety is guaranteed, and you will become one of our happy customers.
End of Tenancy Cleaning Checklist
Our end of tenancy cleaning North London checklist is as follows:
Bathrooms and toilets

Remove cobwebs and dust from the ceilings.

Clean bathtubs and remove limescale.

Wash shower cabinets/screens from inside and out/de-scale.

Clean and disinfect toilets from inside and out.

Wash and de-scale sinks/shine taps.

Wash wall tiles and remove mould.

Clean and polish mirrors.

Kitchen

Remove cobwebs and dust from the ceiling(s).

Clean the inside and outside of the refrigerator & freezer. The freezer should be defrosted in advance.

Customers are requested to defrost the fridge and freezer before the cleaners arrive.

Clean and polish all kitchen cupboards and drawers both inside and out.

Wipe down the microwave inside & out.

Clean all parts of washing soap dispensers, machines, and filters.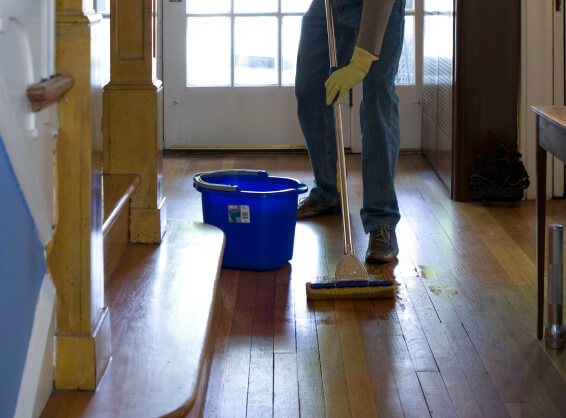 Bedrooms

Remove cobwebs and dust from the ceilings.

Wipe down doors and tops of doors.

Wipe down skirting boards and carefull dust all wooden furniture.

Wash windows internally including sills and ledges.

Clean inside & outside and on top of cupboards/wardrobes.

Hallway and stairs

Remove cobwebs and dust from the ceiling.

Clean cornice/curtain rails and picture rails.

Clean/polish mirrors.
We have a comprehensive checklist you can check out here: https://www.emop.co.uk/help/end-of-tenancy/
Get more with our extra services
Our end of tenancy cleaning in North London services include cleaning tasks that are as follows:
Ironing

Laundry

Kitchen

Microwave

Windows

Fridge

Bed making

Bookcase

Professional oven cleaning

Oven and grill

Outdoor cleaning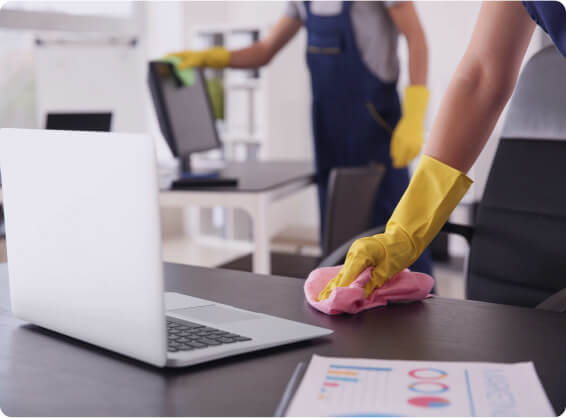 Frequently asked questions
Are tenants responsible for end of tenancy cleaning?
Unless otherwise stated in the rental agreement, it is often the tenant's responsibility to leave the property tidy and clean at the end of their tenancy.
What should an end of tenancy clean include?
For a cleaning company, cleaning the floors, walls, ceilings, and surfaces should be part of an end-of-tenancy clean. Clean all appliances, including refrigerators and ovens, and take out the trash.
Does end of tenancy cleaning include carpets?
Carpet cleaning is typically part of a cleaning company's end-of-tenancy service, but the specifics of the rental agreement may dictate otherwise. For precise criteria, it is preferable to verify with the landlord or the letting agents.
Do I have to defrost my fridge and freezer in advance?
Yes, defrosting your refrigerator and freezer in advance of an end-of-tenancy cleaning is advised. This enables thorough cleaning and guards against water damage.
How many cleaners will come to my property?
This is based on your request and requirement.
Should I move any furniture before the cleaners arrive?
In order to facilitate the tenancy cleaners' access to the places that need to be cleaned, it is a good idea to relocate any furniture that might be in the way. This will guarantee that the cleaners can provide a thorough service and clean the entire house.
Other services we provide