Professional carpet cleaning in London
24/7 service
Eco-friendly
Cashback up to £150
Pay as You Go
Meet our Carpet cleaning service professionals
Mariya

Cleaning for me is not just a task. I really love it and it makes me happy. I love when customers are happy with the results, and I am constantly finding new and innovative ways to clean.

Ruslan

People call me the big clean machine. When cleaning, I try to be quick, functional and clean to a high standard.

Sumae

The flexibility of working with eMop has still allowed me to still keep to my lifestyle. I pickup jobs when needed and work arounds my kids schedule. Working with eMop has been great and I can make lots of money.

Veronika

Hello from Veronika, I am really glad to have found eMop, working with my colleagues have really improved my cleaning skills and I have learnt a lot from the excellent training.

Gerilee

My name's Gerilee, I've been working in the cleaning industry for about 3 years. Cleaning is my passion and I thoroughly enjoy it. I love making people's homes/offices into a spotless sanctuary!

Alberto

As an aspiring actor, eMop allows me to work flexibly and around my film schedules. The pay is really great and the training is excellent.

Silvie

Hi, my name is Silvie and I have more than 5 years experience as a cleaner. Let me help you to make your home spotless. 😊

Martha

My name is Marta, I'm a professional cleaner with over 6 years of experience. I like cleaning, because this job allows me to be flexible and creative. I like things to be clean and in order. I would like to think that my clients feel comfortable and have peace of mind when my job is done.

Paul

I am a bit of a clean freak so this job is perfect for me. I get to clean people homes and get paid for it too best job ever.

Lulian

Working with eMop has been fantastic. The team is great and everyone is really helpful. I am really learnt a lot from my colleagues and I hope to continue to improve my cleaning skills.

Zaharina

I have been cleaning since childhood, so its almost second nature to me. I don't have to think I just do, the results speak for themselves and I love it when I get customer feedback.

Anita

Hi, I'm Anita. I've been working as a cleaner for 8 years. About me: I'm joyful, energized, friendly, helpful, and nonetheless a maximalist. My home is always pristine clean, and it makes me happy if I can help others by tidying up their bunk.
What is included in carpet cleaning in Kensington & Chelsea?
Hoovering the carpet

Removing stains and dirt

Washing the carpet with a carpet washing equipment
Carpet cleaning service in Kensington & Chelsea
Our standard cleaning service includes everything you need to get your home in order as quickly as possible. You can book additional services when you make your booking.
How eMop cleaning service works
Submit your booking online
Enter postcode
Choose a type of cleaning
Select a cleaning schedule
Choose rooms to get an estimated price
Select additional cleaning services if you need them
Indicate the level of dirt in your property
Pay as You Go
The estimated amount of your booking will be held in your bank account
You will only be charged after the cleaning session is completed and according to the actual time a cleaner worked
Manage your booking online
When you submit your cleaning request, your booking becomes available to all cleaners in the system
When you make an appointment with a cleaner, we email you or send a text message through the app
You can use MyAccount on our website or the eMop App to keep track of your booking
What clients say about our cleaning service
5

Order 266466
This was first time I used eMop services. Teodora was very diligent. Very pleased and would highly recommend.

Namrata Sinha

3rd of December, 2023

5

Order 274758
This was first time I used eMop services. Sandra was right on time and she was very diligent. Very pleased and would highly recommend.

DEBARUN SENGUPTA

3rd of December, 2023

5

extremely convenient to book the service, I booked online 3 days ahead of a big professional deep cleaning (end of tenancy), and customer service was very friendly and helpful in answering my questions. the cleaners Ola and Tracey did a fabulous job, they had good communication with me about the time of arrival and finished the job on time. I won't hesitate to use this service again in the future. order #277573

Dr Ola Abbas

30th of November, 2023

5

#273014
Today was my second experience with eMop. Honestly, the first cleaning left me disappointed and unsatisfied. But, this time, thanks to Suhaib, I was 100% satisfied. He completed the job very quickly and also super clean.

MINJEE SON

29th of November, 2023

5

My job was a quick refresh of bathroom and kitchen (ID #273808) and Abisola who completed the job was absolutely fantastic. Professional and on-time, she went above and beyond and the results are brilliant. A definite recommend.

Chris Haigh

28th of November, 2023

5

Dimitrios Xenitopoulos

9th of October, 2023

5

Excellent service! Great value for money!

Fani Loula

19th of September, 2023

5

I highly appreciate the eMop service for its transparency and user-friendly booking process. I wholeheartedly recommend eMop to others.

Soma Chatterjee

22nd of November, 2023

5

The house was left spotlessly tidy!

Lily West

30th of June, 2023

5

Job #268294
eMop cleaners Memounata and Grigor came at 9:30am and finished cleaning the one bedroom flat I had been renting before 2pm, including the carpet.
Overall cordial and reliable service.

Luca

19th of November, 2023
Professional carpet cleaning services Kensington & Chelsea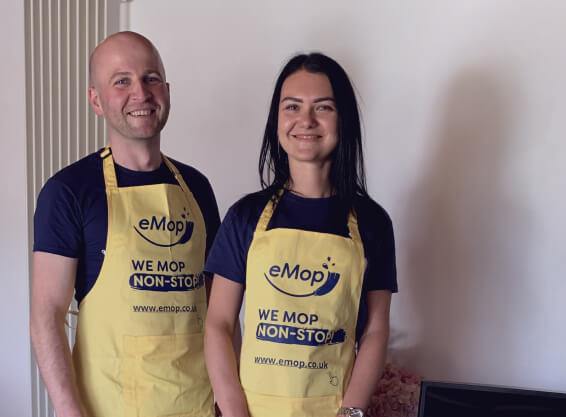 Cleanliness has never become more important than now. We now know the importance of sanitising, from our hands to our home. The carpets and furniture in our homes can gather a huge amount of dust and dirt which can physically harm our health as they become a breeding ground for bacteria. The dust and bacteria collected can trigger allergies and illnesses. It is therefore important for us to ensure we clean them. Carpet and upholstery deep cleaning is not just important for health reasons, but it is a must for odour removal and to keeping your furniture in the best possible condition.
What our cleaners will do:
They will vacuum first and removal debris
Our carpet cleaners will begin by removing loose debris, hair and dust from the surfaces before they use the special carpet cleaning equipment. After they collect all the dust and loose debris, they will identify any heavily stained areas and will begin to treat them. They will do their best to remove drinks and food stains with special products, but we accept that there are some stains that are impossible to entirely remove, especially if they've been left for too long. Our cleaners come with one of the top carpet cleaners. They will also use one of the best eco cleaning solutions, which comes with antibacterial properties. So, not only is your rug and upholstery cleaned from visible dirt and dust, but your furniture will also be sanitised. For those of you with pets, eMop's cleaning solution also removes bad odour from pets and other smells, including those retained from smoking. After cleaning your carpet and upholstery, our cleaners will ensure all your furniture is put back into their original places. Our company provides office and house carpet & upholstery cleaning services in Kensington & Chelsea that will keep them clean, fresh and odour-free. It is quick, convenient, and affordable. Book carpet cleaning online from this page, simply entering your postcode.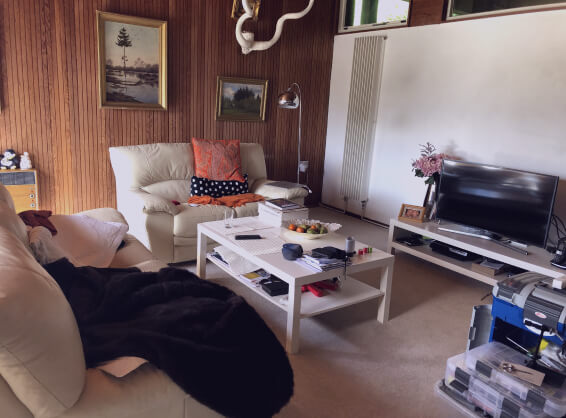 Frequently asked questions
Is it worth getting carpets cleaned professionally?
Yes. Hiring a professional carpet cleaning service is worth it: as a rule, professional cleaning provides a deep and thorough cleaning that may not be possible with DIY methods. Professional carpet cleaning can also help to remove tough stains, dirt, and allergens that can build up over time and impact the look and air quality of your home.
How much does it cost to clean 2 rooms of carpet?
The price for two rooms of carpet starts from £48.
Is it cheaper to clean a carpet or replace it?
This is dependent on a number of variables, including the type of carpet, its size, its age, whether it needs to be cleaned or replaced, and the cost of labour and materials in your area. If your carpet is relatively new and in good condition, a professional cleaning may be sufficient to restore its appearance and extend its lifespan. However, if your carpet is worn, damaged, or has significant staining or odor issues, replacing it may be the better option.
How much does it cost to wash a carpet?
The price for a small-size rug starts from £24. Washing of a medium-size carpet costs from £48.
Other services we provide