Office Cleaning Services in Clapham
24/7 service
Eco-friendly
Cashback up to £150
Pay as You Go
Meet our Office cleaning service professionals
Mariya

Cleaning for me is not just a task. I really love it and it makes me happy. I love when customers are happy with the results, and I am constantly finding new and innovative ways to clean.

Ruslan

People call me the big clean machine. When cleaning, I try to be quick, functional and clean to a high standard.

Sumae

The flexibility of working with eMop has still allowed me to still keep to my lifestyle. I pickup jobs when needed and work arounds my kids schedule. Working with eMop has been great and I can make lots of money.

Veronika

Hello from Veronika, I am really glad to have found eMop, working with my colleagues have really improved my cleaning skills and I have learnt a lot from the excellent training.

Gerilee

My name's Gerilee, I've been working in the cleaning industry for about 3 years. Cleaning is my passion and I thoroughly enjoy it. I love making people's homes/offices into a spotless sanctuary!

Alberto

As an aspiring actor, eMop allows me to work flexibly and around my film schedules. The pay is really great and the training is excellent.

Silvie

Hi, my name is Silvie and I have more than 5 years experience as a cleaner. Let me help you to make your home spotless. 😊

Martha

My name is Marta, I'm a professional cleaner with over 6 years of experience. I like cleaning, because this job allows me to be flexible and creative. I like things to be clean and in order. I would like to think that my clients feel comfortable and have peace of mind when my job is done.

Paul

I am a bit of a clean freak so this job is perfect for me. I get to clean people homes and get paid for it too best job ever.

Lulian

Working with eMop has been fantastic. The team is great and everyone is really helpful. I am really learnt a lot from my colleagues and I hope to continue to improve my cleaning skills.

Zaharina

I have been cleaning since childhood, so its almost second nature to me. I don't have to think I just do, the results speak for themselves and I love it when I get customer feedback.

Anita

Hi, I'm Anita. I've been working as a cleaner for 8 years. About me: I'm joyful, energized, friendly, helpful, and nonetheless a maximalist. My home is always pristine clean, and it makes me happy if I can help others by tidying up their bunk.
What is included in office cleaning in Clapham?
Dusting all furniture

Cleaning all glass surfaces

Vacuuming and mopping floors

Taking out the rubbish

Hygiene testing

Anti-bacteria cleaning

Toilets & urinals cleaning

ATP testing
Office cleaning service in Clapham
Our standard cleaning service includes everything you need to get your home in order as quickly as possible. You can book additional services when you make your booking.
How eMop cleaning service works
Submit your booking online
Enter postcode
Choose a type of cleaning
Select a cleaning schedule
Choose rooms to get an estimated price
Select additional cleaning services if you need them
Indicate the level of dirt in your property
Pay as You Go
The estimated amount of your booking will be held in your bank account
You will only be charged after the cleaning session is completed and according to the actual time a cleaner worked
Manage your booking online
When you submit your cleaning request, your booking becomes available to all cleaners in the system
When you make an appointment with a cleaner, we email you or send a text message through the app
You can use MyAccount on our website or the eMop App to keep track of your booking
What clients say about our cleaning service
5

Order 266466
This was first time I used eMop services. Teodora was very diligent. Very pleased and would highly recommend.

Namrata Sinha

3rd of December, 2023

5

Order 274758
This was first time I used eMop services. Sandra was right on time and she was very diligent. Very pleased and would highly recommend.

DEBARUN SENGUPTA

3rd of December, 2023

5

extremely convenient to book the service, I booked online 3 days ahead of a big professional deep cleaning (end of tenancy), and customer service was very friendly and helpful in answering my questions. the cleaners Ola and Tracey did a fabulous job, they had good communication with me about the time of arrival and finished the job on time. I won't hesitate to use this service again in the future. order #277573

Dr Ola Abbas

30th of November, 2023

5

#273014
Today was my second experience with eMop. Honestly, the first cleaning left me disappointed and unsatisfied. But, this time, thanks to Suhaib, I was 100% satisfied. He completed the job very quickly and also super clean.

MINJEE SON

29th of November, 2023

5

My job was a quick refresh of bathroom and kitchen (ID #273808) and Abisola who completed the job was absolutely fantastic. Professional and on-time, she went above and beyond and the results are brilliant. A definite recommend.

Chris Haigh

28th of November, 2023

5

Dimitrios Xenitopoulos

9th of October, 2023

5

Excellent service! Great value for money!

Fani Loula

19th of September, 2023

5

I highly appreciate the eMop service for its transparency and user-friendly booking process. I wholeheartedly recommend eMop to others.

Soma Chatterjee

22nd of November, 2023

5

The house was left spotlessly tidy!

Lily West

30th of June, 2023

5

Job #268294
eMop cleaners Memounata and Grigor came at 9:30am and finished cleaning the one bedroom flat I had been renting before 2pm, including the carpet.
Overall cordial and reliable service.

Luca

19th of November, 2023
Choose trusted office cleaning service in Clapham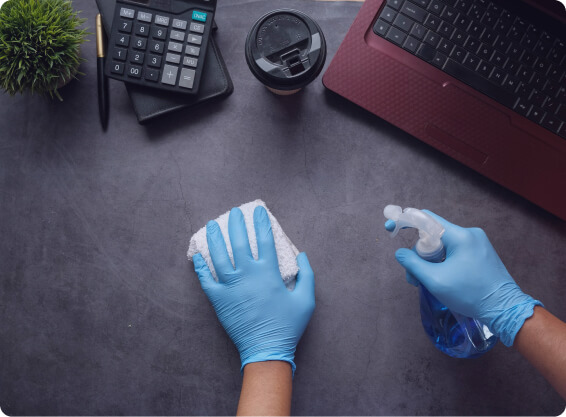 When customers enter your office, their first impressions matter. If the office space is clean, tidy and generally pleasant to be in, it sets your relationship with the customer on the right path. Our office cleaning service in Clapham is here to help you present your business in the best possible light. An uncluttered, spotless work environment sends an important message to your customers as well as your employees. eMop is dedicated to achieving and maintaining the highest standards when it comes to commercial cleaning services. Our crew of skilled office cleaners in Clapham is composed of enthusiastic, committed experts. Our professional office cleaners have access to the training and education necessary to provide cleaning services that go above and beyond clients' expectations thanks to our staff training programs.
More reasons you should use our reliable service
Because of our high standards and quality service, we have a very high client retention rate

We provide dependable, quality office cleaning service with several convenient payment methods

The majority of our customers come to us after a trusted referral from a previous customer

Our office cleaning services are reasonably, competitively priced, and provide excellent value

We provide expert commercial cleaning services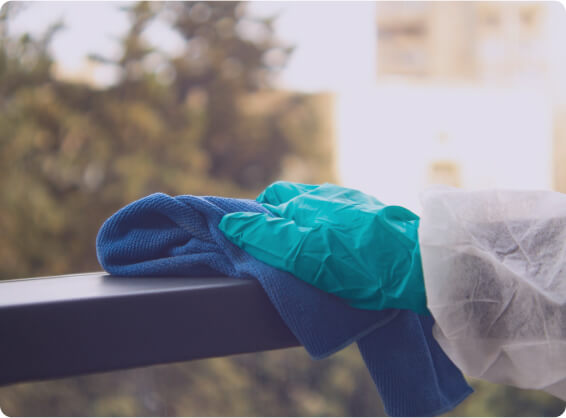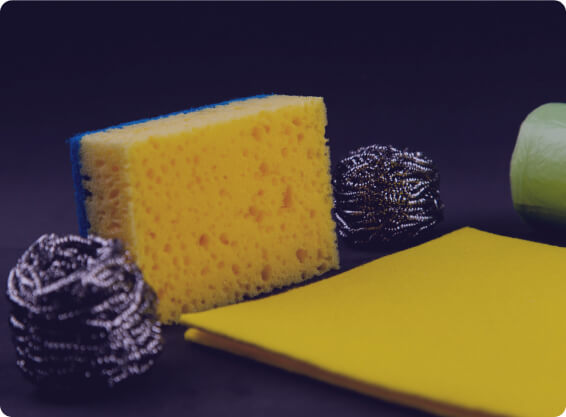 Easily customised commercial cleaning service
There are occasions when you don't require a specific service as part of your office cleaning, or you wish to include something extra. You might wish to adjust the cleaning schedule based on the kind of office you have or your demands at a particular moment.
We provide a long list of commercial services in addition to the typical office cleaning packages, including:
Office equipment cleaning

Bathroom washing and sanitizing

Kitchen cleaning
We also provide
Stain removal with professional equipment

Interior & exterior window cleaning

Balcony cleaning

Cleaning floors, vacuuming the carpets, mopping the floors, and wiping skirting boards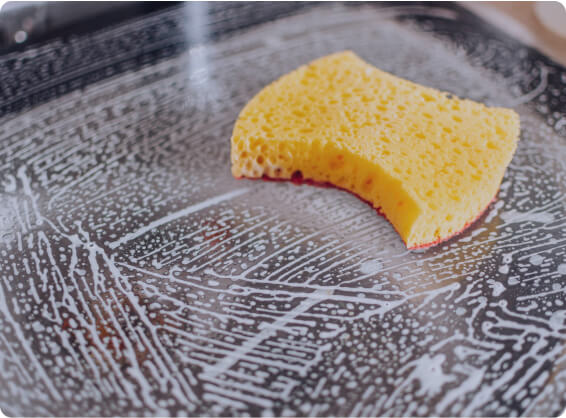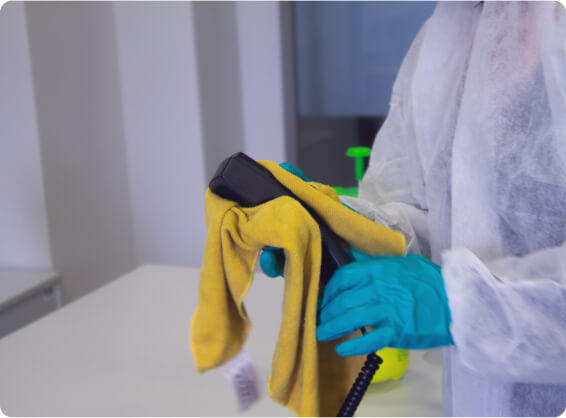 Cleaning service for office kitchen includes
Washing dishes

Wiping down appliances

Cleaning kitchen surfaces with the proper ecologically friendly products and techniques
Why book office cleaning service from eMop Clapham
All of our office cleaning personnel are certified and covered by insurance

To guarantee a high-quality clean, we provide all the cleaning materials and machinery

We clean both inside and outside, any time you want

We clean the microwave, oven, and refrigerator in the office

We offer our office cleaning services at affordable prices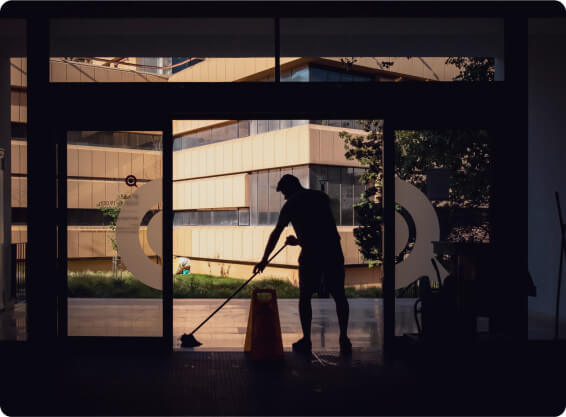 Frequently asked questions
How much is a professional cleaner in London?
One-time deep cleaning services in London would cost between £14 per hour and £25 per hour, with the average hourly rate for house cleaning in London being between £12 and £13. Get the best office cleaning prices and excellent quality by requesting a quote from eMop.
How much do office cleaners charge per hour in the UK?
A business office cleaning should cost, on average, between £15-£25 per hour depending on the cleaning company. Between £10 and £20 per hour is a conservative estimate for the cost of commercial cleaning services. This is a fairly typical charge for one-on-one cleaners who might have more experience with routinely cleaning homes than huge commercial premises.
What is included in a basic office cleaning?
Cleaning office windows and disinfecting surfaces that people touch, such as phones, lamps, keyboards, fax machines, copiers, staplers, and more. Recycling paper and emptying rubbish cans is also included.
How do you calculate office cleaning cost?
We take into account the number of rooms and such parameters as the level of dirt, as well as additional services you may need to require. You see the final price immediately when you book your cleaning. All the hours are charged by the minute.
Other services we provide