We've Cleaned the Wrong Flat Again!
By eMop
28 February 2020
eMop stories
Imagine the following situation… In the morning you are in a hurry, you don't have time to make your bed or wash the dishes after breakfast. You leave the house in a mess and run to work. On the way back home after a hard day at work, you feel stressed by the prospect of returning to a messy flat and tidying up all evening instead of relaxing.
But you open the door and you can't believe your eyes; the flat is perfectly clean, the dishes are washed, the clothes are neatly folded and piled up on the bed. You rub your eyes for a while as you don't believe it's your own flat. At this point, you don't know what to think and become anxious. You start checking your valuables to see if anything is missing, but everything is in its place. So it wasn't a burglary and the flat is clean! Somebody came and tidied up the house, although you hadn't called any cleaners.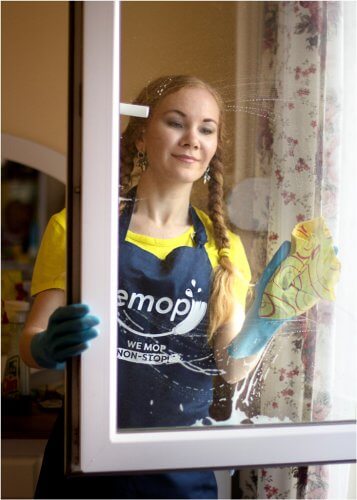 That is not fiction, but a true story, which recently happened at e-Mop. Our cleaners took an order, arrived at the destination, took the key at the reception, opened the door and started cleaning. They acted exactly according to the instruction. When the cleaning was over, they returned the key to the receptionist and left the building.
That evening our client support service got an angry feedback. It read: "What's the matter? You've deceived me. The cleaners haven't done anything. I insist on getting my money back immediately".
We investigated the case and found out the cleaners hadn't been in the client's flat, although they had done the work. But it wasn't the cleaner's fault as they cleaned the right flat. The client herself made a mistake when providing the address and accidentally ordered cleaning for her neighbour.
The neighbour was absent, their key was at the reception desk and the receptionist gave it to the cleaner without any hesitation. So, our client who had expected to find her flat tidy, found it in the mess she left it in, while her neighbour who hadn't expected their flat to be neat, surprisingly found it spotless.
The client had nothing to do but to order cleaning once again and this time she was more accurate with the address. Unfortunately, we don't know what kind of conversation she had with the neighbour.
Strange as it may seem, this is not the first case in the history of our company. As it appears, Londoners like to give each other cleaning presents from time to time. Read our earlier case here when we cleaned the wrong flat.