Detailed office cleaning checklist: daily, weekly, and monthly duties
By eMop
14 April 2023
Cleaning checklists
With a regular cleaning schedule, you can keep your office workers healthy and content. More productivity and fewer sick days are just a couple of benefits of a clean and organised office space.
In addition to looking unpleasant, a cluttered office can irritate coworkers and sap their motivation. With a printed office cleaning checklist, eMop can keep your workplace organised and spotless.
To keep your staff members healthy and the office looking its best, develop a cleaning schedule specifying when specific areas are to be cleaned and what chores need to be completed.
It will be easier to establish a standard of cleaning that suits your company's specific requirements if you or your staff follow a well-thought-out office cleaning checklist.
What should a cleaning checklist include?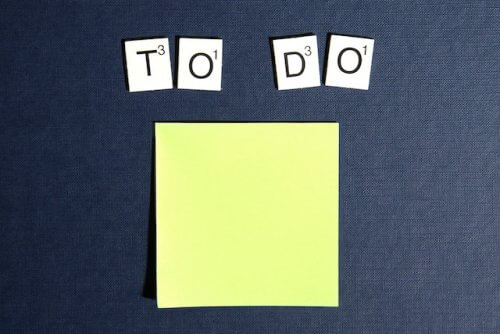 All surfaces should be dusted, the floors should be vacuumed and mopped, the bathrooms should be cleaned, the rubbish and recycling should be emptied, high-touch surfaces should be disinfected, antibacterial treatments should be applied, and the space should be organised.
Paper towels and toilet paper should also be restocked. Daily, weekly, and monthly work should be carried out to complete these responsibilities.
How do you clean an office daily?
Office desks and cubicles
Make sure that the following procedures are taken to ensure that the workspace, including desks, cubicles, and shared work tables, is clean and orderly.
● Remove dust from keyboards and clean computer screens
● Empty rubbish and recycle the paper
● Vacuum floors near and under desks and tables
● Clean office windows
● Clean up the areas that people contact
● Dust surfaces such as desks, shelves, and others
Office kitchens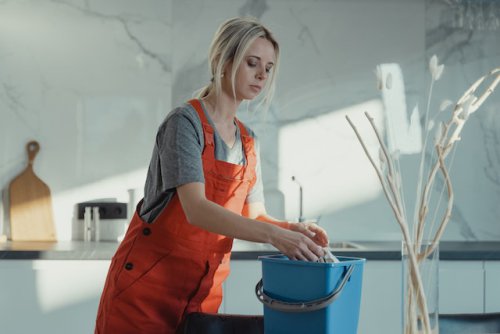 To clean break rooms and office kitchens, follow the cleaning tasks given below:
● Throw away food wrappers, expired perishables, and undesired food
● Put clean dishes and cutlery away after cleaning them
● Empty the recycling and rubbish
● Remove any expired food from the refrigerator. Clean the refrigerator's interior surfaces
● Clear out old coffee grounds from the coffee maker
● Clean and disinfect tables, counters, and other surfaces where people prepare and eat food
● Tidy kitchen appliances and gadgets like the microwave oven
● Check the water cooler to ensure there is water and cups available for everyone to use
Recreation and reception area
If your workplace has a front area or entrance ways where visitors are welcomed, you want to make sure it contributes to your ability to establish a positive first impression. Be sure to follow the cleaning tasks below to accomplish that.
● Clean and organise the welcome desk at the office reception
● Clean up any other desks, the tables in the waiting room, and other hardwood surfaces
● Empty the recycling and waste bins
● Make sure the water cooler contains water for visitors and replenish the water glasses there
● Arrange any periodicals or books that have been left out for guests to peruse
● Clean and dust the windows, the business sign, and other features that visitors first notice
● Disinfect surfaces that people touch, like lights, phones, bells and call buttons, TVs, and more
● Attempt to hoover the carpet in your office's waiting and common rooms at least once every week.
Toilets and Bathrooms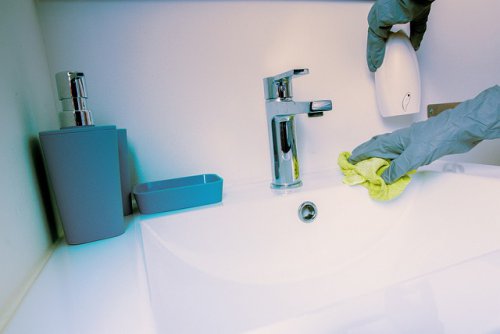 ● Clean and sanitise the restrooms
● Wash and sanitise the sinks
● Clear the floor of debris before disinfectant-mopping it
● Before disinfecting any hard surfaces, clean them off, and throw away paper towels and other waste that isn't recyclable
● Replace used paper towel and toilet paper rolls
● Use glass cleaner to clean the mirror
● Verify that all hand dryers are operational. Try troubleshooting, or if you are unable to resolve the issue, inform a repairman or maintenance expert
Weekly office cleaning checklist
Overall tidying of the office
● Eliminate clutter: Put it back where it belongs, recycle it, or dispose of it. Cords can be kept neatly wound up using zip ties.
● With a paper towel or damp rag, remove dust from public spaces. For difficult-to-reach areas like the crevices of your keyboard, use compressed air to blow away dust. Keep in mind the fan blades and light fixtures.
● Smudges can be removed by spraying glass cleaner onto a towel.
● Use a sanitising spray and a clean rag to wipe clean all hard surfaces. Take note of high-germ places like the buttons on the water fountains, microwave, and refrigerator, as well as the vending machines.
● Cobwebs can be removed from the office's corners with a rag. For those tall, challenging corners, mount the rag on the handle of a broom.
● To make additional room, dispose of old food and beverages. No one loves to find takeaway that is two weeks old, so perhaps now is a good time to establish some fridge regulations.
● Use soapy warm water to scrub dishes, glasses, and appliances. Check the cabinets for unnecessary clutter.
● Toilet paper and soap dispensers should be refilled as well. Disinfect any hard surfaces and clean the mirror.
● Recyclables and rubbish bags should be disposed of properly.
● The floors should be cleaned of filth and debris. To clean under furniture, lift the couch cushions and relocate the pieces.
Cleaning of not-so-obvious places
● Dust quickly accumulates on lamps and fixtures. Wipe them down with a duster or microfiber cloth.
● Vents and ducts can be thoroughly cleaned using a hoover with a hose attachment.
● Clean keyboards and mice with a disinfectant spray or wipes.
● Light switches and door frames are regularly touched and are excellent places for viruses to propagate. To clean them, use a spray or wipe with disinfectant.
● Regularly empty and clean rubbish cans to prevent odours and the growth of germs.
● Walls can accumulate dust and grime over time even if they may not appear to be dirty. Clean walls down with a wet cloth or sponge.
● Dust and allergens can be found in chairs and couches. To clean them, use a hoover attachment for upholstery.
Monthly office cleaning checklist
Cleaning high spaces and ceilings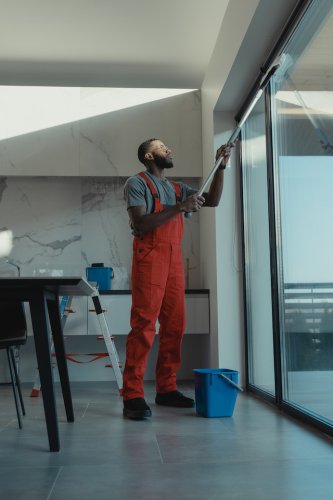 ● Dust light fixtures, ceiling fans, and other high surfaces with a long-handled duster or microfiber cloth. The tops of cabinets and shelves should also be dusted.
● Look around light fixtures and along moulding for cobwebs. To sweep them away, use a hoover attachment or a broom.
● Air vents and ceiling tiles can be cleaned with a hoover with an extension wand. Dust and debris that have gathered over time can be removed this way.
● Check the ceilings and high areas frequently for indications of mould growth, water damage, or other potential problems.
● Use safety precautions when cleaning high areas and ceilings, including using a stable ladder, donning non-slip footwear, and tying up loose items.
Dusting upholstery
● Any loose rubbish or items, including papers, pens, or other office materials, should be taken out of the upholstery first.
● If there is any loose dust or dirt on the surface of the upholstery, use a soft-bristled brush or a hoover with a brush attachment to remove it carefully.
● Use a clean, damp cloth and a mild cleaning solution to spot clean any stains or spills that may have occurred on the upholstery.
● All woven or material window coverings should be cleaned.
Tidy up the office boxes
● Sort the office's boxes by function or department once you have gathered all of them.
● Anything old or no longer needed should be removed.
● To get rid of any dirt or debris, hoover the boxes, or dust them with a microfiber cloth.
● To maintain the boxes' organisation and cleanliness, use storage options like shelves, cabinets, or office drawers.
Special attention to antibacterial treatment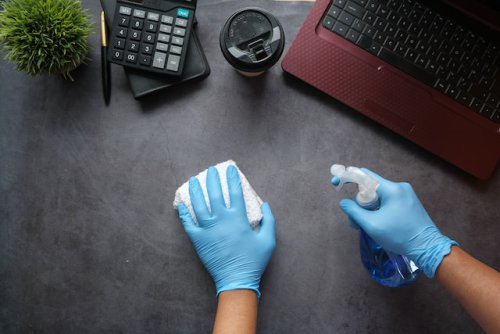 To decrease the spread of the coronavirus, the Health and Safety Executive constantly reviews and updates its cleaning, hygiene, and handwashing rules.
The HSE offers recommendations on how to make sure businesses safeguard employees and visitors against damage, including employing coronavirus prevention measures.
In order to prevent the spread of infections and ensure the safety of enterprises, recommendations include maintaining a healthier work environment and encouraging handwashing.
While Covid-19 limitations may no longer be in effect, employers should continue to examine policies to keep employees safe, care for employee welfare, and offer a respectful employment environment where staff can perform at their best.
Office cleaning supplies you need
To ensure the health and safety of your staff and guests, high-quality cleaning materials are essential. You must make the appropriate cleaning equipment investments in order to carry out efficient daily, weekly, and monthly office cleaning activities, maintain exceptional workplace hygiene, and do the job correctly.
Be sure any products you want to purchase are safe to use and appropriate for the surface or surfaces you'll be cleaning before you buy them. To stock up, buy the following essential cleaning supplies:
● Sanitising agent
● Odour neutralizer
● Rags for cleaning
● Multiple-use cleaner
● Window and glass cleaner
● Furniture polish
● Disinfecting wipes
● Heavy-duty gas cleaner
● Single-use cleaning product for bathrooms
● Bleach for urinals and toilets
● Dishwashing soap
● Soap dispensers
● Dispensing units for hand sanitizer
● Carpet cleanser
● Defrosting agent
How do I make an office cleaning schedule?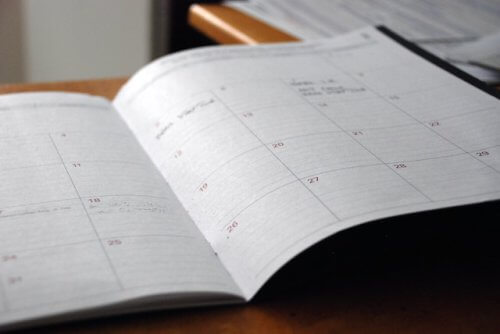 Determine the frequency of jobs and your office's cleaning requirements to develop a timetable that works for you. Employees or the cleaning crew should be given particular cleaning duties or monthly cleaning tasks to do. The schedule should be constantly reviewed and updated as necessary.
Download our printable PDF cleaning checklist here to better organize the cleaning routine in the office.
Professional cleaning benefits
Lack of attention to workplace hygiene can have a significant negative impact on your company's brand image, employee wellbeing, and facility standards. We are aware, nevertheless, that it's not always easy to keep your working environment immaculate.
To maintain a clean workplace standard week after week, businesses need the proper cleaning supplies, knowledge, extra time on top of all other responsibilities, and expert skills.
You might want to think about hiring a registered cleaning service with the necessary knowledge, tools, and abilities to complete this operation for you in order to guarantee the elimination of germs and bacteria.
Employees can contribute by tidying up their workstations once the workday is done, but they might not be properly trained or knowledgeable enough to carry out deep cleaning in some places.
Here, hiring professional office cleaning services is more advantageous, because you can be confident that your staff and guests are safe.
Professional cleaners always have access to the most recent cleaning techniques, and are fully aware of the correct tools and chemicals to use in order to eliminate germs successfully. The cleaning will therefore be done correctly and to the highest standards, giving you and your staff peace of mind.