How to Impress Your Partner With a Clean Home on Valentine's Day
By eMop
11 February 2020
Cleaning tips
Valentine's Day is on its way and you are probably dying to impress your partner on this day. So, what can you do to make this day a memorable one? There are probably plenty of things you can do, like buying the perfect gift or booking a short break to Paris or Rome – but a clean, tidy home can also impress your partner on Valentine's Day. Follow eMop's tips to tidy and clean your home in time for that perfect romantic evening…
Clean and tidy your bedroom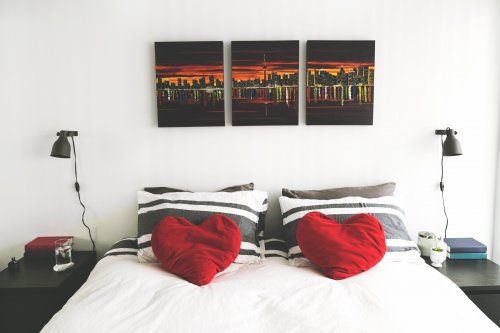 Make sure your bedroom is clean and tidy. Remove any items from the floor and vacuum and/or mop the floor. Wipe dust from surfaces, including frames by using a clean damp cloth – wipe from top to bottom.
Mask that foul smell: this one is particularly for the guys. Guys, just like you, girls pay attention to your smell and the smell of your home. Get those dirty socks (and anything you've worn to the gym) in the washing machine and open the windows. It is particularly important to open the windows in the bedroom.
Finally, change bedcovers and sheets to clean ones and burn oil or light some candles to bring in a pleasant smell. A pleasant smell will go a long way to impressing a partner.
Clean the kitchen (especially if you're cooking a special meal)
If you're planning to prepare a special meal, it is important you have a clean, glossy kitchen that makes you feel happy to be cooking. Clean the cooker, wipe the surfaces and mop the floor. A clean kitchen will make you feel relaxed and you will look forward to the evening ahead, instead of stressing.
Try some of our homemade cleaning products and tips; here we give you ingredients for sink, dish cleaners and towel freshener. Here, we give you natural recipes for cleaning wooden furniture, window cleaners and air freshener.
Get your bathroom into a pleasant state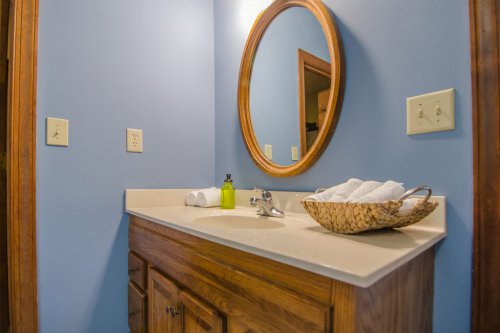 The bathroom is a place we often make use of and so do our guests. If it's in an unclean state it can make you and your partner feel uncomfortable to use it.
For pleasant evening for you and your partner, give your bathroom/toilet a good cleaning and take out any unpleasant smells by burning some candles in there. The candles will also add to the romantic theme of the evening.
For the cleaning we suggest using mild detergents – you can also place vinegar and water in equal parts in a spray bottle and use this mixture on surfaces like the washbasin. If you have particularly stubborn limescale and grime, you do not need to use aggressive materials to scrub; you can use some baking soda on a soft cloth to remove the grime.
Vinegar is great for removing limescale, so you can place some of the mixture in your toilet bowl, and scrub gently using a brush to remove any limescale.
For detailed methods on how to remove limescale from your toilet bowl, please see eMop's advice and tips here.
You can remove dust from hard to reach areas using a mop or a broomstick.
The living room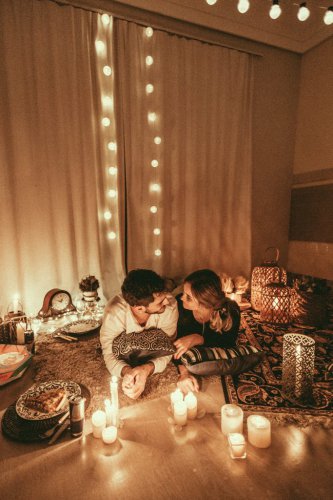 At some point during the evening you will make use of this room, probably moving from the kitchen and dining area to the couch, so it's important you give your living room a good cleaning, too. Vacuum/mop the floor and remove dust from surfaces. Again, use a clean damp cloth to wipe any frames and glasses and use a mop or broomstick to remove dust from the ceiling and hard to reach areas.
Cabinets and window sills should be wiped from top to bottom. Also, remove dust from internal surfaces and shelves.
Again, we suggest lighting some candles in this room to take out any unpleasant smell.
Book the eMop touch for the perfect Valentine's Day
If you don't have time for all this cleaning, but still want to entertain your partner in a super clean atmosphere, eMop provides great domestic cleaning service. Our eMoppers can clean your home into the perfect state for Valentine's Day.
You can use your free time to look for the perfect gift.