How to Clean Stainless Steel Appliances – Complete Walkthrough Guide
By eMop
19 December 2019
Cleaning checklists
In almost all kitchens, there are dishes or interior parts made of stainless steel. Why? As the name suggests, stainless steel is strong, durable, and easy to care for. It is also characterised by good thermal conductivity; as a consequence, stainless steel is often used for the production of plates, dishes, and cutlery. Despite all the advantages, stainless steel gets dirty and loses its luster with regular use. If you are not sure how to clean stainless steel and what the most effective tools are to polish it, all the information you need can be found in this article!
How to Clean Stainless Steel Appliances
How to Clean Stainless Steel
How to Make the Steel Surface Shine
Stainless Steel Fingerprint Prevention
Cleaning A Stainless Steel Refrigerator
How to Clean a Stainless Steel Sink
How to Clean a Stainless Steel Stove
How to Clean A Stainless Steel Dishwasher
How to Polish Stainless Steel
Cleaning Tips & Best Homemade Remedies
How to Use Vinegar to Clean Stainless Steel
Baking Soda and Stainless-Steel Cleaning
Dish Soap + Baby Oil
Cleaning with Water and a Cloth
Glass Cleaner for Fingerprints
WD-40
Commercial Stainless-Steel Cleaners
How to Clean Stainless Steel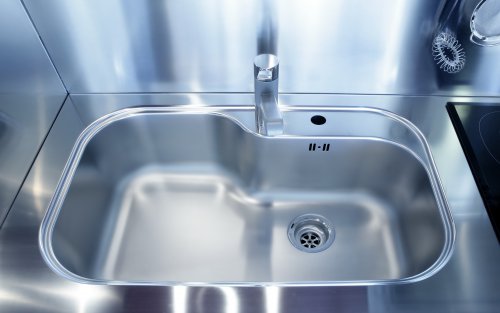 Here are some common rules that are useful for regular cleaning of stainless steel, regardless of the type of cleaning agent you use:
Always scrub in the direction of the grain
Use a microfibre cloth to prevent scratching
Always use water and soap (or dish detergent) together with a microfiber cloth for standard regular washing
Do not use any cleaner with a chlorine base or anything that contains chloride
Do not use a cleaner for the oven
How to Make the Steel Surface Shine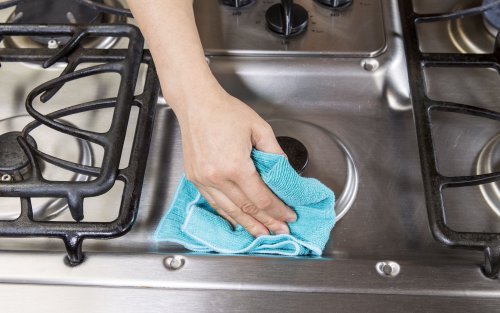 While scratch removal is often better to leave to the experts, small scratches can often be removed with a simple home remedy – apply a thin layer of toothpaste to the small scratches and buff gently with a toothbrush. This gets off superficial and small surface scratches.
If you want your appliance to shine, a neat trick would be to apply a few drops of olive oil before wiping your stainless-steel appliances down with a soft cloth. This gives it a great, deep shine that will complete your kitchen's modern sleek look.
Stainless Steel Fingerprint Prevention
Once your stainless steel is clean, use wax to keep pesky fingerprints from coming back. After using a clean cloth or paper towel, apply the wax in a light coat and then buff to a shine with a clean microfiber cloth.
Cleaning a Stainless Steel Refrigerator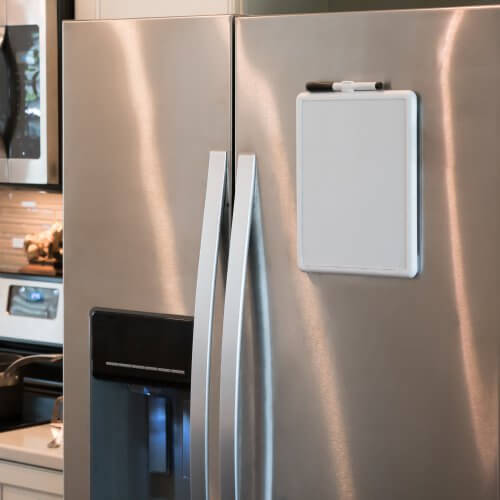 Using still water is the easiest way to clean your stainless steel fridge, but stubborn stains and fingerprints will require additional rubbing or a few drops of liquid soap. You will need to wash off the surface with clear, hot water before drying it with a paper towel if you use soap. Clean faster, so it doesn't streak.
If you cannot cope with cleaning the fridge by yourself or there is not enough time, call eMop! Our cleaning professionals will clean your stainless steel appliances, using toxins-free cleaning supplies, and will give you the best tips for looking after them.
How to Clean a Stainless Steel Sink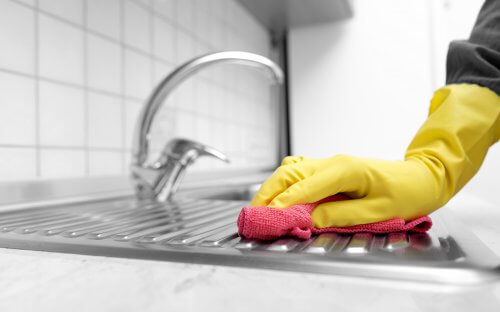 Start by removing any food scraps and clean the drain out. Rinse the basin with the spray hose of your shower
Sprinkle baking soda liberally over your sink's entire surface, so it is coated in a thin layer. Make sure that it covers the sink walls
Start buffing the sink with the baking soda using a soft sponge or cloth working in the direction of the stainless steel grain
The baking soda serves as a slightly abrasive scrubbing agent, without scratching fragile stainless steel
Take half a lemon
Squeeze over the baking soda one half of the lemon. Then rub the cut side over the baking soda, with the other lemon half using the same circular buffing motion as above. The lemon can help deodorise the sink, while the surface of the stainless steel is cleaned by the baking soda
When scrubbing is finished, pour white vinegar over baking soda, producing a chemical reaction that will have a lot of fizzing. Don't worry, fizzing means you're cleaning up! Pour just enough white vinegar to remove the baking soda, so on the way down, there is no chance that it will block your drain
Rinse the drain thoroughly
How to Clean a Stainless Steel Stove
Wipe the appliances in the grain direction. Get a slightly moist washing cloth and wipe your stove dry. Start at the top of your stove and work down as you scrub. Remember to clean in the direction of the grain. Vertical grains have to be washed vertically and horizontal grains – wiped horizontally.
Apply a special harsh stain cleaner. Look for any harsh stains after givingyour stove an initial cleaning with your detergent solution. Use a special cleaner if there is any splattered food or oil on your stove
Rinse the stove completely after applying cleaners. Dampen a clean washcloth in hot water. Run it over the stove until the water runs clear in the direction of the grain. Clean your stove immediately with a towel or cloth of paper
How to Clean a Stainless Steel Dishwasher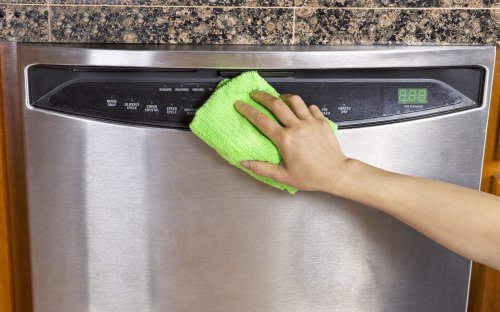 To prevent clogging up and drain water from the dishwasher effectively, start the waste shredder before cleaning
Use vinegar in the next wash cycle. Place the cup on the top shelf of the dishwasher and pour vinegar into it. Slide the shelf into the dishwasher and close the door. Turn on the dishwasher and start the washing cycle at the maximum water temperature.
Start the wash with baking soda. After the first wash cycle, pour baking soda onto the bottom of the dishwasher. Start a short wash cycle at the maximum water temperature
Do not use bleach to clean the stainless-steel dishwasher. No matter how strong stainless steel is, the use of bleach can lead to corrosion of the metal. Instead, take a softer detergent such as dishwasher detergent
How to Polish Stainless Steel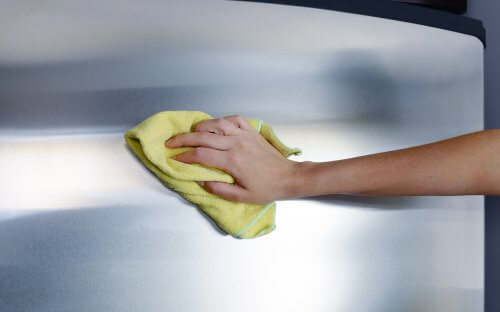 Take vinegar. Some vinegar types may work better than others. White and cider vinegar work on stainless steel equally, but apple vinegar leaves a more natural smell
Test the grain's direction. There is a grain of stainless steel that runs either vertically or horizontally. Wiping the steel down in the direction of the grain can help you reach the small grooves where dust and grime can be trapped
Spray the steel with vinegar liberally. Pour the vinegar into a spray bottle to coat the stainless-steel surface. Spray the vinegar over the item until the product is slightly coated in vinegar
Clean the vinegar off in the direction of the grain, using either a soft cloth or paper towel. This will remove debris and restore its shine
Cleaning Tips & Best Homemade Remedies
As you can see, it is not necessary to use aggressive chemicals to clean stainless steel, let's sum up some of the best homemade remedies.
How to Use Vinegar to Clean Stainless Steel
To remove any impurities from the stainless steel quickly and efficiently, it is enough to apply table vinegar to the sponge and then treat the metal surface with liquid. If the greasy spots are completely fresh, the process will go very quickly. In the case of old spots, mix vinegar with citric acid, then the cleansing effect will be even stronger.
Baking Soda and Stainless-Steel Cleaning
One of the easiest ways to clean stainless steel from greasy stains and food is ordinary baking soda. This tool is universal; it can be used to clean cutlery, pots, sinks, or stoves.
To achieve maximum effect, first remove grease and food debris with a detergent, then wipe the dishes or surface dry with a paper towel.
Sprinkle plenty of soda on stainless steel and leave it for several hours.
Add a small amount of warm water so that the soda becomes more like a paste.
Using a soft sponge, remove any residue from the surface of the stainless steel.
Dish Soap + Baby Oil
Dish soap is very suitable for washing dishes … and stainless-steel appliances! Surprisingly, this is actually so, with the help of ordinary soap you can remove even the stubbornest dirt.
Pre-wet the rag with water and apply a small amount of soap to the rag
Wipe along the texture lines of your appliance. When finished cleaning, wipe the surface with a dry towel
This is a very important part of cleaning, after polishing with oil, the surface will look shiny, but, most importantly, the oil prevents dirt from sticking, and subsequent cleaning will be even easier. Apply a small amount of baby oil to a second rag. A couple of drops will be more than enough!
Cleaning with Water and a Cloth
You will need to invest in some microfibre cloths to make your stainless steel appliances shine like new. Such super-soft, non-abrasive clothes will last you a long time. If you get some of these clothes, you can use only water to wash your appliances.
Glass Cleaner for Fingerprints
You can use a glass cleaner for cleaning fingerprints.
Spray the cleaner on a microfibre. You can spray on the stainless steel directly, but this can cause drops, and the cleaner can be wasted
Gently clean the area in a circular motion to avoid stains and fingerprints. Repeat as necessary
Thoroughly rinse, then clean the metal finish with a towel
WD-40
If you want to wash the surfaces of stainless steel quickly and leave them with a good protective coat, use WD-40.WD-40 is a petroleum-based product; you need to remember this, so you don't use it on anything in the kitchen without thoroughly washing it afterward.
Commercial Stainless-Steel Cleaners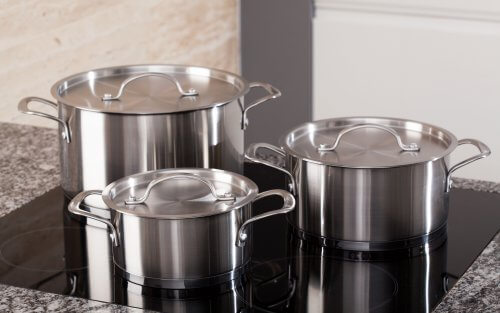 Here are some useful commercial cleaners to help you with the cleaning of your stainless steel appliances:
Noble QuickSan: sanitiser that does not harm stainless steel and is suitable for sanitising work tables
3M 2000: a scratchless pad that helps to remove rust
Spiffy Shine: a polish that removes any corrosive elements on the stainless steel and allows the protective layer to be restored
In addition, let's say, it's always better to call professionals when it comes to the quality of your cleaning. That's why eMop cleaning crew is always ready to help you! We provide the best cleaning service possible, taking care of any tiny scratches, so your home and stainless steel appliances will look fresh and sparkling. Get your first domestic cleaning with eMop and save time and money, while enjoying the best cleaning results you can get!