12 Helpful Tips to Do Your Laundry and Ironing
By eMop
20 November 2020
Cleaning tips
It may seem like two easy jobs, but there are always people who struggle with their laundry and ironing and, of course, there are those who want to pick up one or two new tricks to make the job easier. Whatever your reason for researching the topic, you are not alone. eMop is always here to provide tips and advice on anything related to cleaning and housekeeping. Especially cleaning, because we love doing it! Here, we give you 12 helpful tips that will make doing your laundry and ironing an easy task (or as easy as possible). We hope you will achieve the best possible results.
Part 1: How to do the laundry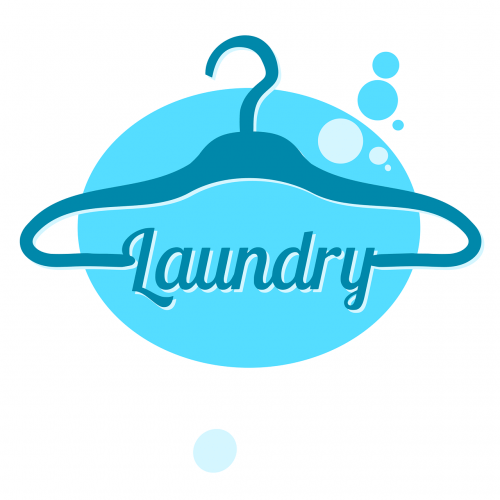 1. Always read the labels before you wash your clothes
Some manufacturers strongly recommend you wash certain items in a particular way, especially delicate fabrics. Before you throw them in with the rest of your clothes, check the labels and see what instructions are given. They may recommend you avoid washing machines and hand-wash instead.
2. Use the correct detergents
It helps to use the correct detergents for different fabric types and colours. Many observant cleaners have noted that they see a difference when they use the correct detergents for colours and whites. So, pick a detergent that's right for the type of clothes you are washing.
3. Separate whites from colours
Some people may not see the point unless the colours are new, but it does make a difference. It is better to wash whites in higher temperatures and colours in lower temperatures. Higher temperatures allow you to remove stubborn stains from whites. Also, by separating you can use the correct detergent and temperature.
4. Don't overload your washing machine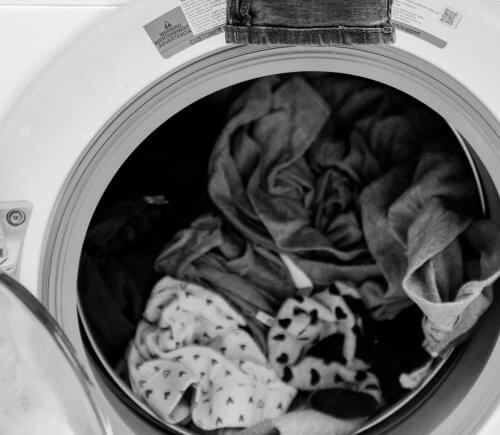 Try to not overload your washing machine. We suggest loading it maximum 80% – this is so you can keep plenty of space for the clothes to spin around and interact with the machine.
Want your appliance to last longer? Be sure to clean your washing machine once a week or bi-weekly, depending on how often you are using it.
5. Shake and stretch clothes after taking them out
When you take the clothes out of the washing machine give them a good shakedown before placing them in the dryer or hanging. It stretches them and makes it easier to iron them later. Also, stretch along the seams in particular, and the collars in the case of shirts.
6. Reduce the load first before placing it in the dryer
If you have a heavy load, it is best to dry it in two cycles; otherwise the clothes will not be entirely dry. However, for environmental reasons (and also for the longevity of the clothes) it is best to actually air dry them. And, of course, to keep the cost of your energy bills down! But when you need your clothes to dry faster, we recommend using lower temperatures, not only is it environmentally-friendly, but it will also stop clothes from shrinking.
Check the filter after you take out the clothes, it will be full of fluff shredded from your clothes. Bin it! Apparently, it's not only gross but a fire hazard, so definitely don't want to keep it in there for long.
7. Use an antibacterial laundry sanitiser when washing
The use of antibacterial laundry detergents has never been more important than in our current climate. They are used along with normal washing detergents to kill bacteria on your clothes and therefore sanitise your clothes.
Part 2: How to do the ironing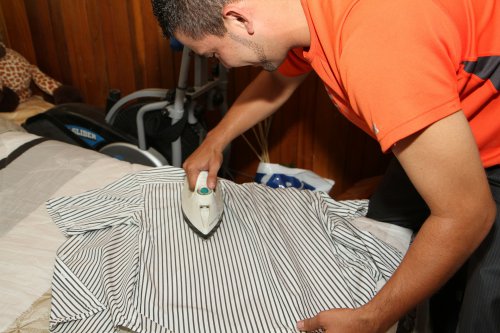 1. Read your iron's manual guide before you start using it
After you've done your laundry, it's time for ironing! We will help you to understand it better, so you know the different settings when it's ready to be used etc. However, when you understand the particular device you are using, you are less likely to make mistakes and in the worst-case scenario, burn your clothes. So, always read the guide.
2. Before you start, have your iron board and iron setting ready
Don't rush into ironing, first set up your board and check the labels of the clothes you're ironing. These labels will help you to choose the right temperature. On many modern irons, you will have the labels such as silk, wool and cotton. Materials like silk and wool should be ironed on low heat, polyester should be ironed on medium and cotton on high heat. It is best to iron polyester and cotton whilst slightly damp.
3. Use a damp cloth when ironing certain materials
It is best to not directly place the iron on delicate fabrics such as wool and lace. Use a damp cloth on top when ironing these clothing materials. Make sure it's damp and not wet. As for polyester and cotton fabrics, you can spray them directly to dampen them before ironing or get them out of the dryer – if you are using one – before they are completely dry.
These materials tend to stick to the iron if not wet, so make sure they are slightly damp or protected with other clothes on top before ironing.
4. Iron inside out
Turn clothes inside out before you begin ironing; this is particularly important with delicate fabrics such as silk, satin and linen. We recommend doing it with all fabrics as the iron can sometimes leave stains, and you rather have that on the inside than outside.
5. Iron along the seams first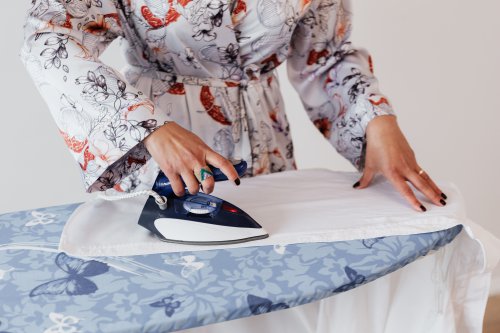 Perfect your ironing skills! Iron along the seams first, to ensure they are flat and in the case of shirts for example, iron out the collars and shoulder parts before moving on to the rest of the shirt. Iron firstly from the inside and then the outside. Place the shirt's shoulders on the edge of your iron board and run the iron from shoulder to the back. When doing sleeves, go from cuff to shoulder.
With trousers, turn them inside out and iron along the seams first, starting from the waist down to the legs. Ensure the seams are flattened. Then start ironing the upper part of the trousers, including the pockets. And then work your way along the legs down to the bottom. Ensure you iron on both sides.
Dresses and skirts should also be ironed from the inside out. If your dress or skirt has a collar, just like trousers, iron from the collar down. But do the seams first.
Take advantage of eMop's new laundry and ironing service
If all of this sounds too tiring and, some would say tedious, then take advantage of eMop's new laundry and ironing service. Let our experts handle the hard work. They are highly skilled and trained professionals who will handle your delicates with the best of care.
By the time they are done, we will bet that you will be curious to know all their tricks! Even we are amazed at times…
Book one of them now and test their skills. Also, get a £5 discount! Use this promo code, which is valid until the 27th November, to make your booking: DRYIRON5